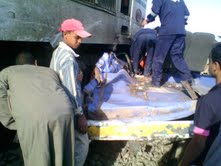 Assiut train accident on November 17, 2012 - Aswat Masriya
Families of the children who were killed in an accident on Saturday in Assiut cut the main road to demand the trial of the resigned transport minister and the prime minister, Nile News channel reported on Saturday.
The families are in a state of raging anger due to the distortion of the bodies and the difficulty identifying them, the channel reported al-Masry al-Youm newspaper's correspondent as saying.
Preliminary investigations show that the gate of the train crossing was not closed when the school bus tried to crossed, the channel added.
A train crashed into a school bus on Saturday morning which resulted in the death of 50 people, most of whom were children. 15 others were injured in the accident.