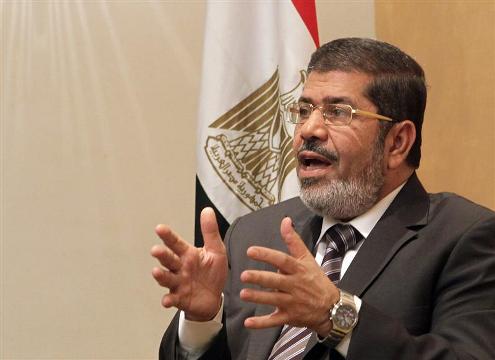 Presidential candidate Mohamed Mursi - Asmaa Waguih/REUTERS
The number of "insulting the president" lawsuits filed during the reign of President Mohamed Morsi exceeds those filed under all Egyptian rulers since 1892, a report by the Arab Network for Human Rights Information (ANHRI) has shown.
The report said 24 lawsuits for 'insulting' President Morsi had been filed against journalists and activists since his election in June.
Three lawsuits were filed by the president's office to the prosecutor general, while private individuals and politicians filed the remaining 21.
However, only two reports have actually been ruled upon by a court.
These include the case of TV host Tawfik Okasha, who was acquitted in January 2013 of "insulting the president and inciting people to kill him."
Islam Afifi, editor-in-chief of Al-Dostour newspaper, is on trial for "insulting the president and publishing false news."
Fourteen lawsuits have been filed with Prosecutor-General Talaat Abdullah since he was appointed by President Morsi in November, while his former counterpart Abdel-Meguid Mahmoud received nine.
TV host Bassem Youssef, psychiatrist Manal Omar, Constitution Party co-founder Hossam Eissa, and journalist Ola El-Shafei have all faced such accusations in recent months.
Accusations have also been made against Al-Masry Al-Youm, Al-Fagr and Al-Tahrir newspapers and TV channels Al-Fareen and Al-Qahera Wa Al-Nas, among others.
Four cases of insulting the president reached court during the 30-year reign of Hosni Mubarak.
Five lawsuits were filed for 'insulting the ruler' during King Farouk's reign between 1936 and 1952.
Most prominently, novelist and journalist Ehsan Abd El-Qodous was tried for insulting the king.
Renowned writer Mahmoud Abbas El-Aqad was tried on similar charges under King Fouad I, who ruled from 1917 to 1936.
The first such case to be filed in modern Egypt was in 1909 when journalist Ahmed Helmy was sentenced to ten months in prison and the printing of his newspaper The Egyptian Country was halted for six months.
Helmy had published an article called 'Egypt for the Egyptians' criticising Khedive Abbas Helmy II.
The ANHRI report also criticised the vagueness of Article 179 of Egypt's penal code which states that those who "insult the president" will be punished according to the law.
The word "insult" is not specific and did not describe exactly an insult is, the report said.
'Insulting the President - a crime of an autocratic regime' was published on Sunday by The Arab Network for Human Rights Information.