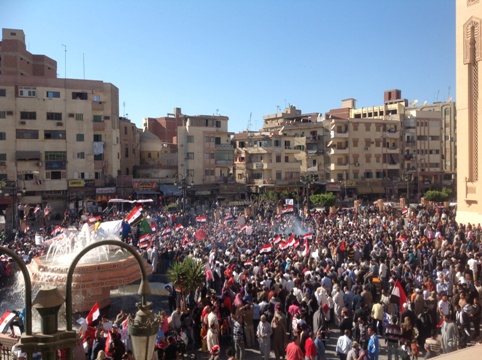 Thousands demonstrate in Tanta to support the army, the judiciary and al-Azhar on April 26, 2013 - Aswat Masriya
Hundreds of activists and demonstrators on Friday marched in Alexandria from al-Qaed Ibrahim Mosque to the Judges' Club to denounce what they called the attempt to brotherhoodise the judiciary and the state.
They also demanded holding those responsible for assaulting peaceful demonstrators and kidnapping activists accountable.
The demonstrators chanted slogans against the Muslim Brotherhood and President Mohamed Mursi.
Scores of demonstrators headed to the Northern military area in Alexandria to urge the armed forces to interfere and run the country.
In Gharbiya, thousands rallied in Tanta's al-Sayed al-Badawi Square to take part in a demonstration calling for supporting the judiciary, the army, the police and al-Azhar.
The demonstrators chanted pro-army and anti-Brotherhood slogans and called on the army to take to the streets.