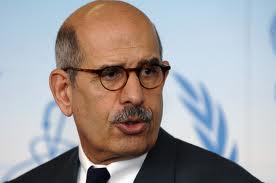 Potential Presidential Candidate Mohamed al-Baradei
Nobel Laureate and Coordinator of the National Salvation Front Mohamed ElBaradei praised on Saturday the role of the Head of Egypt's National Council for Women Mervat Al-Talwi in adopting the declaration of the United Nations Commission on the Status of Women.
"Violence against women cannot be justified by virtue of customs, traditions or religion," the former director of the International Atomic Energy Agency posted on his Twitter account.
Head of the Dostour Party acknowledged the efforts pursued by Talawi and Egyptian to have the declaration adopted by consensus.
ElBaradei added that the "adoption by consensus, including Arab and Muslim states, of the declaration on violence against women is now a challenge to put words into action."
Meanwhile, Egypt's Muslim Brotherhood has warned against this declaration saying, "This document violates all the fundamentals of Islamic Sharia (law), as it grants girls sexual freedom, as well as the freedom to choose their sexual orientation and their sexual partner, in addition to raising the age of marriage."