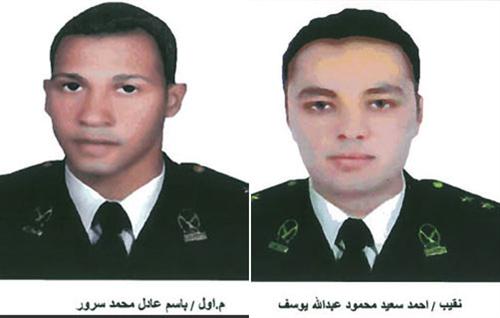 Photos of the two police officers who were killed in a security crackdown in Assiut on Thursday January 17, Ahmed Saeed Abdallah Youssef (R) and Bassem Adel Mohamed Sorour (L) - Ahram
Prime Minister Hisham Kandil and Interior Minister Mohamed Ibrahim on Friday attended the military funeral of police officer Ahmed Saeed Abdallah Youssef who was killed on Thursday in a crackdown on criminals in Assiut.
Al-Azhar Grand Sheikh Ahmed al-Tayeb also attended the funeral.
Police officers Ahmed Youssef and Bassem Adel Mohamed Sorour were killed while a third and a conscript were injured during a security crackdown on Assiut's Arab al-Kalabat.
Eight criminals were killed in the crackdown.
The military funeral for Youssef was held at Cairo's al-Shorta Mosque following the Friday noon prayer.
A number of Sorour's colleagues said he asked a group of them early on Thursday, before the crackdown, to not hold a military funeral for him in case of his death and requested that his body be delivered to his family in Alexandria, al-Ahram Gate reported.