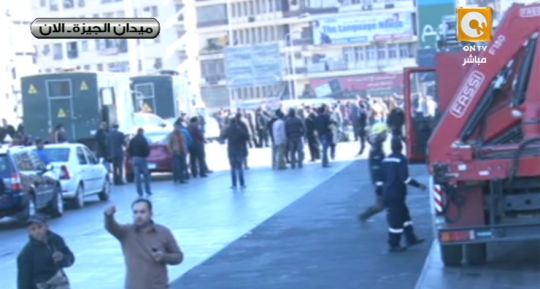 Screenshot via television of the Giza flyover blast on February 7, 2014 - ONTV
CAIRO, Feb 7 (Reuters) - Two explosive devices detonated on Friday near a police checkpoint in Giza, on the outskirts of Cairo, wounding six people, the government and security sources said.
There was no immediate claim of responsibility for the blasts.
The Interior Ministry said four policemen were wounded. State news agency MENA quoted the Health Ministry as saying six people were hospitalized, but did not specify their injuries.
Egypt has seen a wave of protests and violence since the army ousted elected Islamist President Mohamed Mursi last year amid mass protests against his rule.
Army chief Field Marshal Abdel Fattah al-Sisi is expected to run for president and is widely expected to win by a landslide in an election due within six months.
A Sisi presidency would be opposed by Mursi's Muslim Brotherhood, which the government has declared a terrorist group. It has launched a security crackdown against the movement, which rose to power after the 2011 uprising that toppled veteran leader Hosni Mubarak.
The Brotherhood denies any links to militants who have carried out attacks, including bombings in Cairo and the killing of an Interior Ministry official. (Reporting By Maggie Fick; Editing by Janet Lawrence)