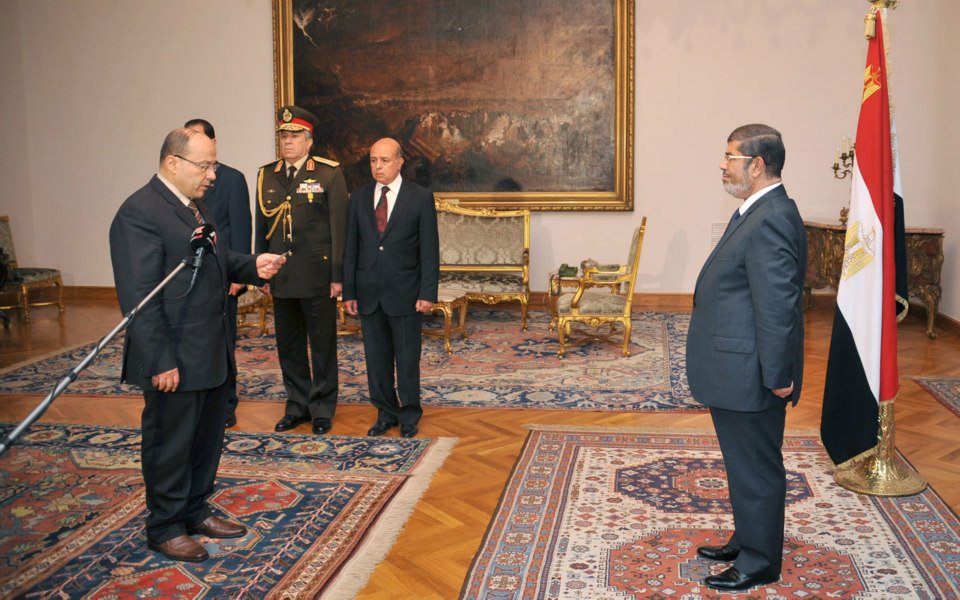 New Attorney General Talaat Ibrahim takes oath before President Mohamed Mursi - Handout
Attorney General Judge Talaat Ibrahim resigned from his post on Monday evening after hundreds of public prosecutors earlier staged a sit-in in front of his office.
Judge Adel al-Saeed, spokesman of the general prosecution, showed the protesters a piece of paper on which Ibrahim wrote his resignation.
"Judge Talaat Ibrahim decided to officially submit his resignation from his post as attorney general next Sunday," he stated.
The protesting prosecution deputies received the news with overwhelming joy, CBC channel correspondent reported.
Judge Shady Khalifa, board member of the Judges Club, praised the attorney general's decision, adding, "This is the one thing public prosecutors could accept to break up their sit-in."
Hundreds of public prosecutors had staged a sit-in at the office of the newly-appointed attorney general demanding his resignation from his post.