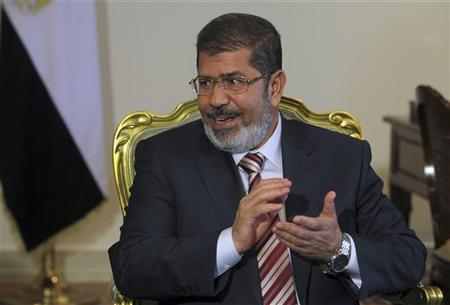 President Mohamed Mursi - Amr Dalsh/Rueters
Egyptian President Mohamed Morsi on Wednesday afternoon hosted a delegation of US senators, including former Republican presidential candidate John McCain, at the Presidential Palace in Cairo.
The aim of the talks was to discuss Egypt's ongoing democratic transition and current developments in the region, especially the Palestine issue and the ongoing crisis in Syria.
McCain, who led the visiting US delegation, currently serves on the US Senate's military services committee. US ambassador to Egypt Ann Patterson also attended the meeting with Morsi, in addition to several other US senators.
From the Egyptian side, the meeting was attended by Foreign Minister Kamel Amr and Essam Hadad, Morsi's advisor for foreign affairs and international cooperation.
At the meeting, Morsi apologised to members of the US delegation for 'anti-Semitic' comments he had made in the past, which have received massive media attention since they were highlighted on a popular television show last week.
On Tuesday, the Obama administration released a blistering response to Morsi's statements.
Morsi told members of the US delegation that his remarks, which he made in 2010, had been taken out of context. Morsi had been a leading member of Egypt's Muslim Brotherhood when he made the comments, in which he referred to Israel's 2008/09 attack on the Gaza Strip in which some 1500 Palestinians were killed.
Morsi stressed his respect for all religious creeds at the meeting, saying that he drew a distinction between followers of Judaism and Israelis who persistently mistreated Palestinians in the occupied territories.
McCain, who arrived in Cairo Tuesday night, also met with Egyptian Prime Minister Hisham Qandil and a number of opposition representatives, including failed Egyptian presidential candidates Amr Moussa and Mohamed ElBaradei.