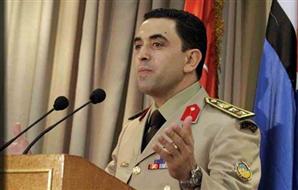 Colonel Staff Ahmed Ali, spokesman of the Armed Forces - Ahram
Egypt's Armed Forces has stressed it will not tolerate any hazard threatening Sinai, adding that its sons "are ready to sacrifice themselves for Sinai to be a precious part of Egypt."
The minister of defence and military production's decision to determine the conditions of ownership and usufruct in the Sinai Peninsula is part of "the national role of the armed forces in protecting Egypt's national security and defending the country's sovereignty on its territorial borders", military spokesman Colonel Staff Ahmed Mohamed Ali has stated on the armed forces' Facebook page.
Minister of Defence and Military Production First Lieutenant Abdel Fattah al-Sisi issued on Sunday a decree forbidding ownership, usufruct, leasing or any kind of action for land plots and real estate in "strategic areas of military importance and areas adjacent to Egypt's east border for a distance of five kilometres West."